On Wednesday, November 4, 2015, Evan Wolfson will hold a public discussion of his work with Chicago Tribune Journalist, Steve Chapman.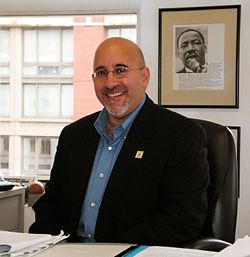 For more than a quarter of a century, Evan Wolfson has been a tireless advocate for gay rights. In 2001, Wolfson formed Freedom to Marry, a driving agent in one of the most astonishing transformations of attitudes toward civil rights in our nationís history. Wolfson offers his front-and-center view of this struggle, its dark moments, its recent victories, and the work that lies ahead. Steve Chapman will join him for a conversation.
This program is generously underwritten by Southwest Airlines. Evan Wolfson is Founder and President of Freedom to Marry, and the author of Why Marriage Matters: America, Equality, and Gay People's Right to Marry. During the 1990s he served as co-counsel in the historic Hawaii marriage case that launched the ongoing global movement for the freedom to marry. Newsweek/The Daily Beast dubbed Evan "the godfather of gay marriage" and Time Magazine named him one of "the 100 most influential people in the world." In 2012, Evan received the Barnard Medal of Distinction alongside President Barack Obama.
Steve Chapman writes a twice-weekly column on national affairs, which is syndicated in some 50 newspapers, and writes editorials on legal issues, economics, and foreign relations. Born in Brady, Texas in 1954, Chapman grew up in Midland and Austin. He graduated with honors from Harvard University in 1976. He has been a fellow at the American Academy in Berlin and the Hoover Institution at Stanford University, and has served on the Visiting Committee of the University of Chicago Law School. In 2015, he received an honorary degree from Lake Forest College.
Wednesday, November 4 | 6-7 PM
Francis W. Parker School Auditorium
2233 N Clark St | Chicago
Public: $12
Students and Teachers: $5
o Use promo code EVAN for 50% off the cost of a ticket by calling the Box
Office at 312.494.9509 or purchase online at
http://tickets.chicagohumanities.org