Would you like to be a judge?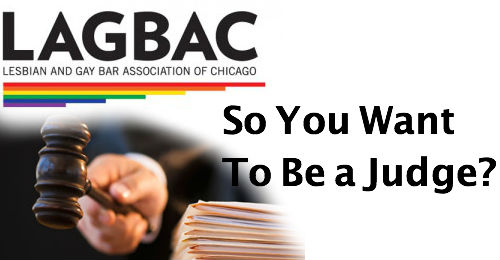 If you have ever considered running in a judicial election, this CLE is for you. Leaders and participants from the Alliance of Bar Associations for Judicial Screening and from the Chicago Bar Association will detail the process of judicial evaluation for election and appointment to the Circuit Court of Cook County.
Sitting judges from all state court levels will address the various paths to the bench in Cook County. Two federal judges and representatives from the offices of Illinois Senators Durbin and Kirk will discuss how appointments to the federal bench get made.
Three moderated conversations with time for Q&A will be followed by a networking reception at Hinshaw & Culbertson.
Learn about running for judicial office
The CLE will take place at Hinshaw & Culbertson LLP, 222 N LaSalle Street, Suite 300 on Friday, 8 April 2016, 3:00 – 6:00 p.m.
Participants will be eligible for 3.0 Professional Responsibility CLE Credits.
This event is presented by the Lesbian and Gay Bar Association of Chicago
Speakers include:
Hon. Mary Jane Theis, IL Supreme Court
Hon. Laura C. Liu, IL Appellate Court
Hon. John H. Ehrlich, CCCC
Hon. Linda Pauel, CCCC
Hon. Colleen F. Sheehan, CCCC
Hon. Sara L. Ellis, U.S. District Court, Northern District of Illinois
Hon. Mary Rowland, U.S. Magistrate Judge
Joyce Williams, ISBA
Susan Horn, Co-Chair of the Decalogue Society of Lawyers JEC and Co-Chair of the Alliance Executive Committee
Jeff Finke, former general chair, CBA JEC
Dan Swanson, Senior Counsel, Office of Sen. Dick Durbin
Peter V. Baugher, chair of Sen. Mark Kirk's Judicial Advisory Board
Susana Darwin, Co-Chair, LAGBAC JEC